Ada moves forward with water cluster plans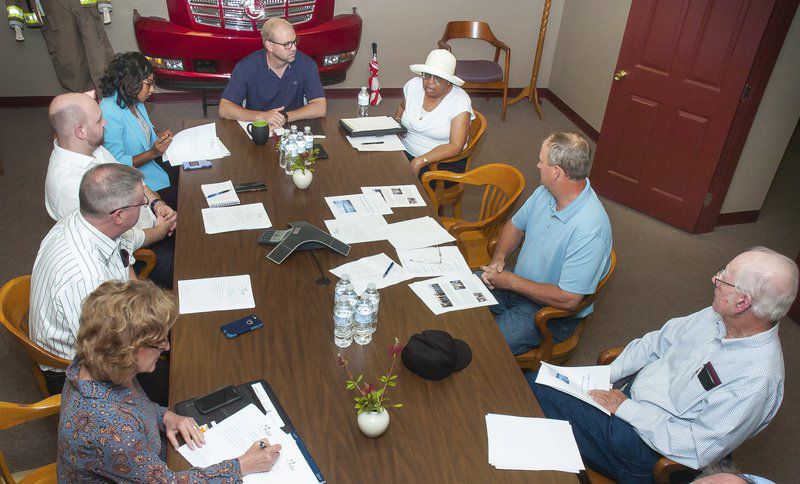 Ada's water cluster committee is moving forward with plans to establish Ada as a regional hub for water-related research, starting with a detailed look at the community's assets.
The committee, which is advising the city on issues associated with turning Ada into a water cluster, met Thursday at the Ada Jobs Foundation office to discuss the steps required to meet that goal. Committee members include representatives from Ada Jobs, the city, the Oka' Institute at East Central University and Kerr Research Lab.
Ada Jobs officials have drafted a roadmap to guide the city and its partners in their task, said James Eldridge, the organization's president and CEO. The roadmap includes the following steps:
• Creating an asset map, which evaluates the community's current assets and opportunities, for Ada.
• Completing a market and key industry study for Oklahoma and the region.
• Bringing key stakeholders together and creating a structure for the water cluster.
Eldridge said he thought the asset map was a crucial first step in the process of creating an Ada-based water cluster.
"We've done a pretty good job over the past years of mapping out our entrepreneurial resources and our business resources," he said. "But now when it comes to water technology, we see research being a really important part of that — scientific research, engineering work, that kind of thing."
Srijita "Dia" Ghosh, an entrepreneurship specialist at Ada Jobs, said the asset map would help the committee identify Ada's strengths and gaps in expertise.
"It's important for us to know what research is being done, what engineers do we have and scientists. And what their area of study is, whether it's groundwater or agricultural water-related issues," she said.
Eldridge said an inventory of the community's assets would include ECU professors, Kerr Lab researchers and people in the private sector who have expertise on water issues. He said the asset map could be expanded to include statewide assets, such as the Oklahoma Department of Water Quality and the Oklahoma Water Resources Board.
'The right time'
Susan Paddack, executive director of the Oka' Institute, said she agreed that the asset map was a critical first step in creating a water cluster centered on Ada. She added that Ada has the tools it needs to become a hub for water-related research focused on innovation and technology, which could benefit the entire state.
"This really is the right time, and this is the right time to start looking at what are our assets are as a state. And water is certainly one of those assets," Paddack said. "I think there's a growing recognition of the fact that if we use our water wisely, we could, in fact, create — I think — a whole new industry. And that would be around the water industry."
Paddack said when the asset map is finished, the committee should begin working on a comprehensive study of water resources and consumers' needs. She said the study should also look at what a water cluster could do to satisfy that demand.
"That all then leads to water innovation and technology to meet those needs," Paddack said. "And that's where I think kind of the sweet spot is."