Ghosh Receives George Nigh Award
Twenty-two ECU Seniors Considered for Award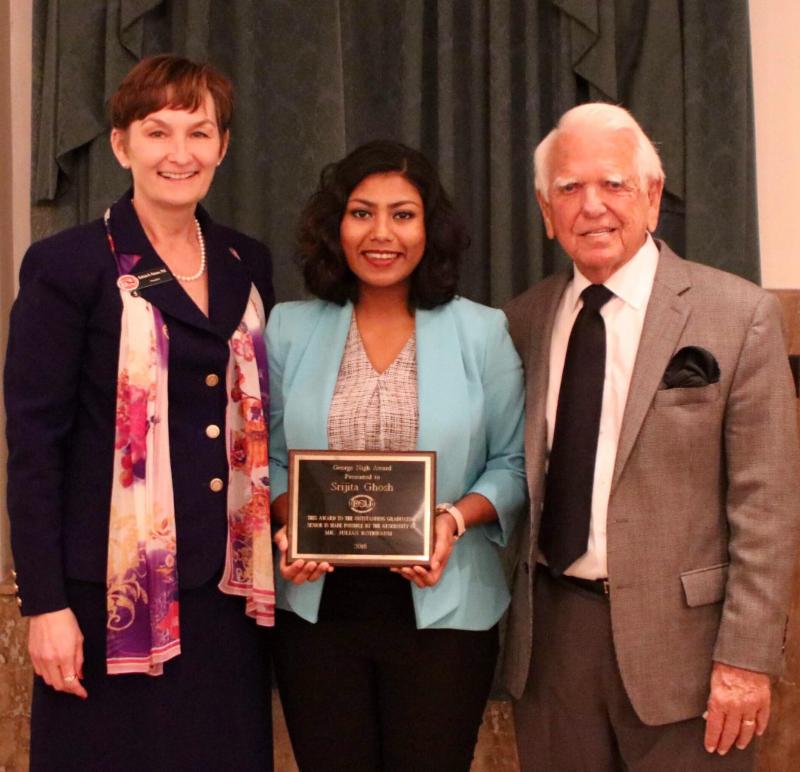 East Central University President Katricia G. Pierson (left) and former Oklahoma Governor George Nigh (right) present Srijita "Dia" Ghosh (center) with the 2018 George Nigh Award
ADA, OKLAHOMA - The top twenty-two academically ranked East Central University (ECU) seniors were considered for this year's ECU George Nigh Award, with Srijita "Dia" Ghosh being selected by committee as the recipient.

The award is based upon academic achievement, character, and potential contribution to public service.





Ghosh, from Kolkata, India, came to ECU as a member of the women's tennis team and soon became president of the International Student Connection Club. She has served as an officer of the ECU Rotaract Club and volunteered in multiple local initiatives, including volunteering at Abba's Tables, Ada Career Center, Compassion Outreach Center and the Ada Boys and Girls Club to name a few. Ghosh placed second in the statewide Love's Entrepreneurship Cup as a junior and following graduation was hired by the Ada Jobs Foundation (AJF) as the Entrepreneurship Specialist.
"My career goal is to be a social
entrepreneur and philanthropist who strives to make a difference in the world by changing one problem at a time,"
shared Ghosh. "The opportunity to work for the Ada Jobs Foundation helped me to be selected for this award because it lines up with my future goals."
"We are very proud of Dia for all she accomplished while at ECU and during her time as an intern for our organization,"
stated Ada Jobs Foundation President James Eldridge.
"Now as an employee of the Jobs Foundation, she is putting her experience to work and assisting other entrepreneurs."
To honor former Governor George Nigh, an alumnus of East Central University,

Mr. Julian Rothbaum, a Tulsa oilman, banker and one-time state regent for higher education, established this award. Each year top ECU seniors are selected to apply for this award and undergo a rigorous application and interview process, which includes application letter, resume, list of collegiate and community activities, and statement of career goals.
About the Ada Jobs Foundation
The Ada Jobs Foundation (AJF) contracts with the City of Ada to promote and recommend economic development opportunities with the city. AJF was established in 1998 to create and retain quality jobs for the Ada area. AJF serves as a "one-stop-shop" for economic development by coordinating with the city and other entities for Ada, Oklahoma's benefit. The Ada Jobs Foundation is a non-profit organization, funded in part by membership dues and tax deductible contributions. In addition to membership dues, funding is provided by a contract with the City of Ada. www.growada.com
###